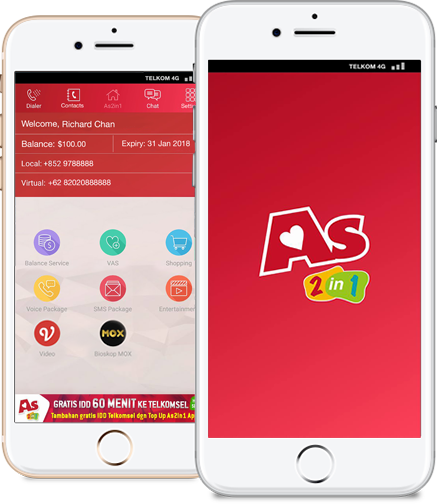 As2in1 for Everyone
Download As2in1 mobile app to get the best experience of making IDD call to Indonesia, Free Chat, and other interesting features, no matter your sim card.
As2in1 Mobile App Features
We understand your need for an application that provides IDD services of the highest quality, ease of use, and provides additional services.
As2in1 Mobile application was created to facilitate your communication with family, friends or colleagues through IDD service, share multimedia message thru Free Chat and SMS. Also you can get additional services such as Tranfer Pulsa, purchase of PLN Indonesia prepaid voucher, Rupiah exchange rate info, Caller Ring Back Tone, Shopping Online (soon), as well as fresh entertainment contents from Indonesia.
Highest Quality of IDD
By using Telin Hong Kong international network, As2in1 mobile app provides the best experience for IDD to Indonesia.
Free Airtime
IDD costs to Indonesia become cheaper because it is free of charge airtime but still the best quality.
Free Chat
Share your stories with other As2in1 Mobile users in your contacts through multimedia messages, text, photo, stickers, video, location for free.
Get Telkomsel Number
You will get a Telkomsel Indonesia number for every As2in1 App install. Suitable for banking and credit registration in Indonesia requiring HP Indonesia contact number.
Content Rich Entertainment
Provides a variety of entertainment content from Indonesia such as MOX, Vidio, Liputan 6, Bintang, Bola and Siaranku.
Language Options
There is a choice of Indonesian, English and Chinese to make it easier for you to use As2in1 Mobile App.
What and How is As2in1 Mobile App?
As2in1 Mobile App gets high attention from the Indonesian Community in Hong Kong since it was first introduced in Hong Kong on August 6, 2017.
These are most frequently asked questions and its answers of the application.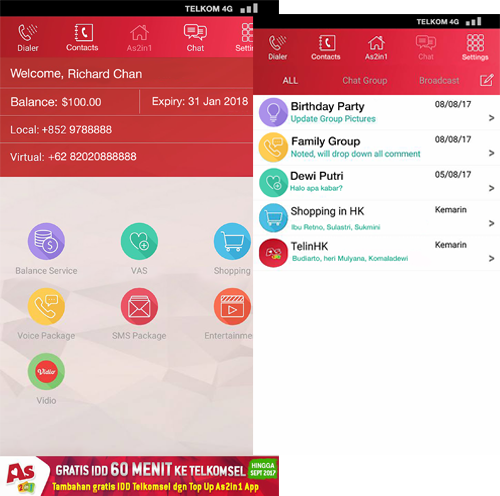 Frequenty Asked Questions
1
I'm not using As2in1 sim card, can I use the As2in1 Mobile App?
Yes you can. As2in1 Mobile App is internet based application which can run on your data plan or WiFi.
2
I'm a Kartu As2in1 subscriber, why the As2in1 App balance is zero after installation?
The app has its own balance that is different from the balance of As2in1 sim card. So the balance of this application will Zero when first installed
3
How to topup As2in1 Mobile App?
You can refill the As2in1 app by using Kartu As2in1 paper voucher, electric voucher at Circle-K Hong Kong, via PayPal. If you are in Indonesia, you can refill on the app to get a transaction code via sms and use the transaction code for the payment at Mini Market (Alfamart, Indomaret, Post Office, Pawnshop, ATM BCA etc)
4
What is the different As2in1 Mobile App with myGraPARI Hong Kong?
As2in1 Mobile App is an application to use with any sim card as long as it has internet connection. While myGraPARI Hong Kong is an application for Hong Kong As2in1 sim card customers.
5
Can I buy data plan package on the As2in1 Mobile App?
The internet package available in As2in1 app only WiFi for 1 day usage. For weekly or monthly internet packages are currently unavailable.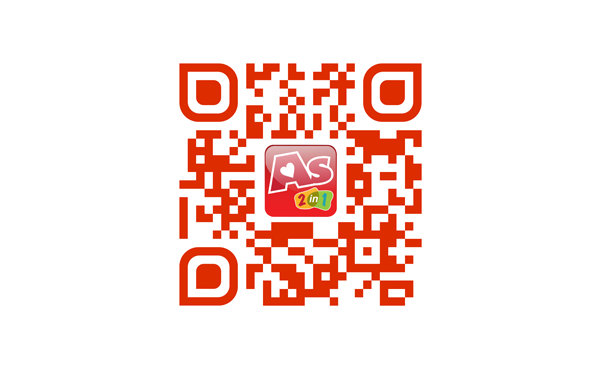 Get instant bonus of 180 mins* Free IDD to Telkomsel after activation of As2in1 Mobie App.
*60 mins each month for 3 months. Valid in the promo period.
You will get Topup bonus of IDD minutes to Telkomsel (Tsel) after refilling the balance with the paper voucher of Kartu As2in1, electronic voucher of Circle-K Hong Kong and PayPal. Valid in promotion period.
Topup $20; IDD Bonus to Tsel 25 mins
Topup $50; IDD Bonus to Tsel 60 mins
Topup $100; IDD Bonus to 120 mins
Topup $200; IDD Bonus to Tsel 240 mins
Topup $500; IDD Bonus to Tsel 600 mins
Screenshots
Click this image for closer view of the application
As2in1 Mobile App is here to make it easier for you to communicate and interact with your family or colleagues in Indonesia.

Package Pricing
Price packages are available in As2in1 Mobile App.
TM IDD to Telkomsel
---
HKD20
---
Economic IDD Package to Telkomsel Indonesia.
✓60+20 min IDD to Telkomsel
✓Valid Period 7 days
TM IDD to Any Indonesian Operator
---
HKD20
---
Economic IDD Package to any Indonesian Operator
✓50 min IDD to all Indonesian operator
✓Valid Period 7 days
50 SMS Package
---
HKD10
---
Economic SMS Package to Indonesia.
✓50 SMS to Indonesia
✓Valid Period 7 days
100 SMS Package
---
HKD18
---
It's perfect for those who frequently send SMS to Indonesia
✓100 SMS ke Indonesia
✓Valid Period 10 days
"Wow ini cocok buat semua, pakai kartu sim apa saja bisa asal ada internetnya dan layanannya sangat banya termasuk transfer pulsa, pulsa PLN prabayar, nonton tv indo dll."
Iip Khiong
"Wow...banyak layanan dalam 1 app. Cocok buat kita yang sedang kerja di luar negeri. Mantap!"
Devy Siregar
"Awsome application....recommended when you are away from home country!
Doddi Nugroho
Entertainment Channels
As2in1 Mobile App presents fresh entertainment from Indonesia, including through Bioskop MOX, Vidio, Siaranku, and Bintang.com.

MOX Cinema
The warehouse of the latest and popular Indonesian films in the past. Basic Packages and Premium Packages are available to subscribe to watch your favorite Indonesian movies.

Vidio
Provide latest information via TV Online from TV stations in Indonesia. Also videos with a variety of options.

Siaranku
Siaranku.com allows one to watch Live Streaming from my broadcasters with a wide selection of Channel Categories.

Bintang.com
Bintang.com present to provide the hottest information about Indonesian celebrities.
Download As2in1 Mobile App
As2in1 for Everyone, No matter your sim card.
Download As2in1 Mobile App and get the best experience of IDD to Indonesia and other features.
Contact Us
Feel free to contact us for any questions related to As2in1 Mobile App or our services.
Plasa GraPARI
Portion 1A2 of Shop 1A, G/F, Lok Sing Centre, 19-31 Yee Wo Street & 2-8 Sugar Street, Causeway Bay, Hong Kong


+852 2890 1230

171 161 (CS Hotline)